Sydney Fringe Comedy 2019
Do you know about Sydney Fringe Comedy?
The Sydney Fringe Festival celebrates its tenth year in 2019!  The Sydney Fringe kicks off on the 1st of September and runs for the entire month of September.  Along with circus, cabaret, theatre, art, and plenty more, the Fringe features an extensive calendar of comedy, which forms approximately 40% of the Fringe's content.
Again in 2019, 2SER is a sponsor of Sydney Fringe.
On The Vultures' Nest each Saturday, we have several guests – often comedians (most of whom perform in the Sydney Fringe) – to help us review some of the news and culture of the week.
If you're a regular listener of The Vultures' Nest you may be aware that we have several Sydney stand-up comedians as guests on the program.  So far this year, comedians Peter Green, David Poltorak, Peter Meisel, Christina Van Look and Peter Gleeson have all been guests in the Nest.  Our host Sean Morahan also performs and produces stand-up comedy shows, including multiple shows at this year's Fringe.  All six of these people will be performing in the Sydney Fringe Comedy portion of this year's Fringe festival.  Christina also has her own solo stand-up comedy show called 'A Look Back' – a comedic look at the last 50 years (a bit like The Vultures' Nest but looking back five decades instead of seven days!)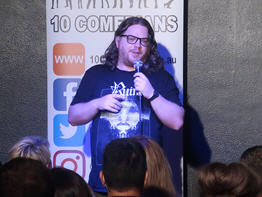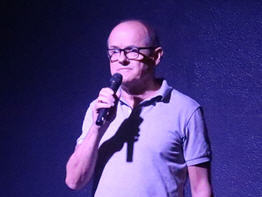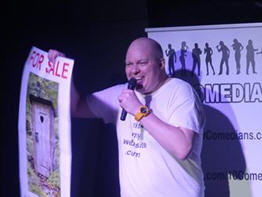 Regular Vultures' Nest guests (and comedians performing in Sydney Fringe) left to right from top left:
Peter Green, Christina Van Look, Peter Gleeson, David Poltorak, Peter Meisel, Sean Morahan
Although they are under instructions not to let the comedy get too crazy on air, all these guests contribute interesting and amusing perspectives on the world and they enjoy sharing those perspectives both on stage and on air.  So listening in on a Saturday morning is a good way to sample just a little of the humour of these funny folk heading into the festival next month.
One of the many benefits of Sydney Fringe festival is that it actively promotes artistic creativity as well as the artists themselves.  The festival is a tremendous annual opportunity to catch a show, see a performance or attend an exhibition that you may not otherwise be able to do.  There are plenty of stories of people like you who have tried their luck on seeing something new at Sydney Fringe and been impressed, amazed or astonished at what they have seen!
We hope you enjoy listening to The Vultures' Nest and that you also enjoy whatever shows or events you get to see at Sydney Fringe this year!
Click here to browse the shows and events at Sydney Fringe Comedy 2019.
Tune in to 2SER 107.3 FM on Saturday mornings at 10.30 am (right after Final Draft) to listen to the irreverent review of the week in The Vultures' Nest.